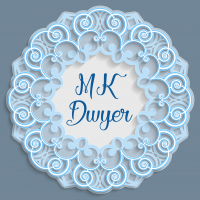 MK Dwyer
Contemporary Romance, Romantic Suspense, Romance
Profession

Author & Accountant
Accounting is my day job. Writing is my dream job. Canadian by birth. Texan by circumstance (but happy to be here). I live in the Houston area with my husband and three kids. I have my husband to thank for most of my writing ideas. Our time in San Diego during his Marine Corps days inspired my series titled Melrose Lane about a group of guys fresh out of the military. I am also working on a novel titled Twenty to Life: A Love Story inspired by my friend Brenda. A couple of other works-in-progress in the Greek Mythology and Rock Star genres are up my sleeve for a later date. I am an avid reader, and I love everything creative, from graphic design to crocheting.
Recommended Featured Books
"If adventure does not wait on the doorstep, climb out through the window"